Best Banner Exchanges for 2023
Create a Viral Banner Machine for Hands-Free Traffic!
Here's how you can combine four of the best Banner Exchange Sites with two of the most powerful Viral Ad Systems out there, to generate endless Traffic, Leads and Commissions... all on Full Auto!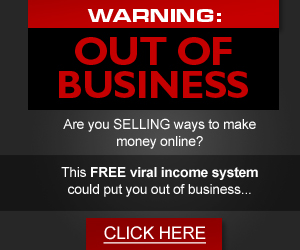 Forget anything you might have heard about Banner Blindness and banners being dead. If you use them correctly, your banners will generate some of the most engaged clicks you're ever going to get.
People CHOOSE to click banners when their curiosity is aroused and they want to know more. They're not just clicking to earn credits or get their own ad seen. They are interrupting themselves... literally stopping whatever it was that they were doing... to find out more about your offer.
I'd happily trade 100 traffic exchange or safelist clicks, for a single banner click, any day of the week!
If that's sounding like a better plan, then lets get started. Just register an account on each of the following sites, confirm your email, then login and grab your referral links. Then follow our easy 10 minute set up outlined below.
| | |
| --- | --- |
| The grand-daddy of banner exchanges shows your ads on 1000s of sites, plus you earn a percentage of your downlines' impressions as well. If you do any traffic surfing, make sure you drop your BOB surf page in your rotation... nothing earns banner impressions faster. | Did you know this massive traffic exchange also has one of the best banner exchanges there is? And just like the traffic side, the Traffic G banner exchange also rewards you with credits based on the activity of your downlines... down through five levels! |
| This is a new banner exchange that's doing everything right: 1:1 exchange ratio, a generous welcome package and it lets you display four different banner sizes. Not seeing big impression numbers just yet, but get in ASAP because it won't take long now that EzHitzs is promoting it! | This is a viral banner exchange that rewards you via generous ad-share program over 10 levels. Once you get this one started... which this all-in-one system will do for you... it's virtually impossible to stop. Check the compensation plan and consider purchasing a low-cost position once you're up and running. |
The All-Important Viral Connection...
If you're serious about creating serious long-term banner impressions automatically, you should connect these two ultra-viral sites into your banner marketing system.
Step 1. Add banners for each of the 4 Banner Exchanges to a free EzAdz Banner Rotator.

Step 2. Add the EzAdz Campaign Banner codes to the 2 Viral Sites above, then...

Step 3. Include banners for the Viral Sites in your rotation on the 4 Banner Exchanges above...
The Viral Sites only allow you to add one banner at a time, so we use an EzAdz Banner Campaign to show all 4 exchange banners in rotation.
That way your Banner Exchanges feed your Viral Sites...
The Viral Sites feed the Banner Exchanges...
And your System promotes itself...
---
You will need to prime the system by adding the Banner Exchange Codes to a few of your website or blog pages.
I use a free EzAdz Banner Rotator to create a single image link I can add EVERYWHERE that offers free banners... that way I can manage it all from EzAdz and I never need to go back to the individual traffic sites.
Once you start consistently feeding impressions into the system, this will start to grow itself. Before you know it, you'll have a Viral Banner Machine showing your banners everywhere, generating new sign-ups and commissions, and driving fresh visitor traffic to your offers...
All totally hands-free!
Take 10 minutes and set this up now! It will deliver better quality traffic... and much more of it... than anything else you might have going on right now.
And it will keep on delivering traffic long after you've done the work...
If you want to seriously turbo-charge this simple system though, keep reading!
This system is all about duplication and each sign-up you get in the individual programs will multiply your traffic. So the most effective thing you can do is create a copy of page... using all your own IDs... and send a bunch of traffic to get things rolling. There's two easy options below if that sounds like a plan...